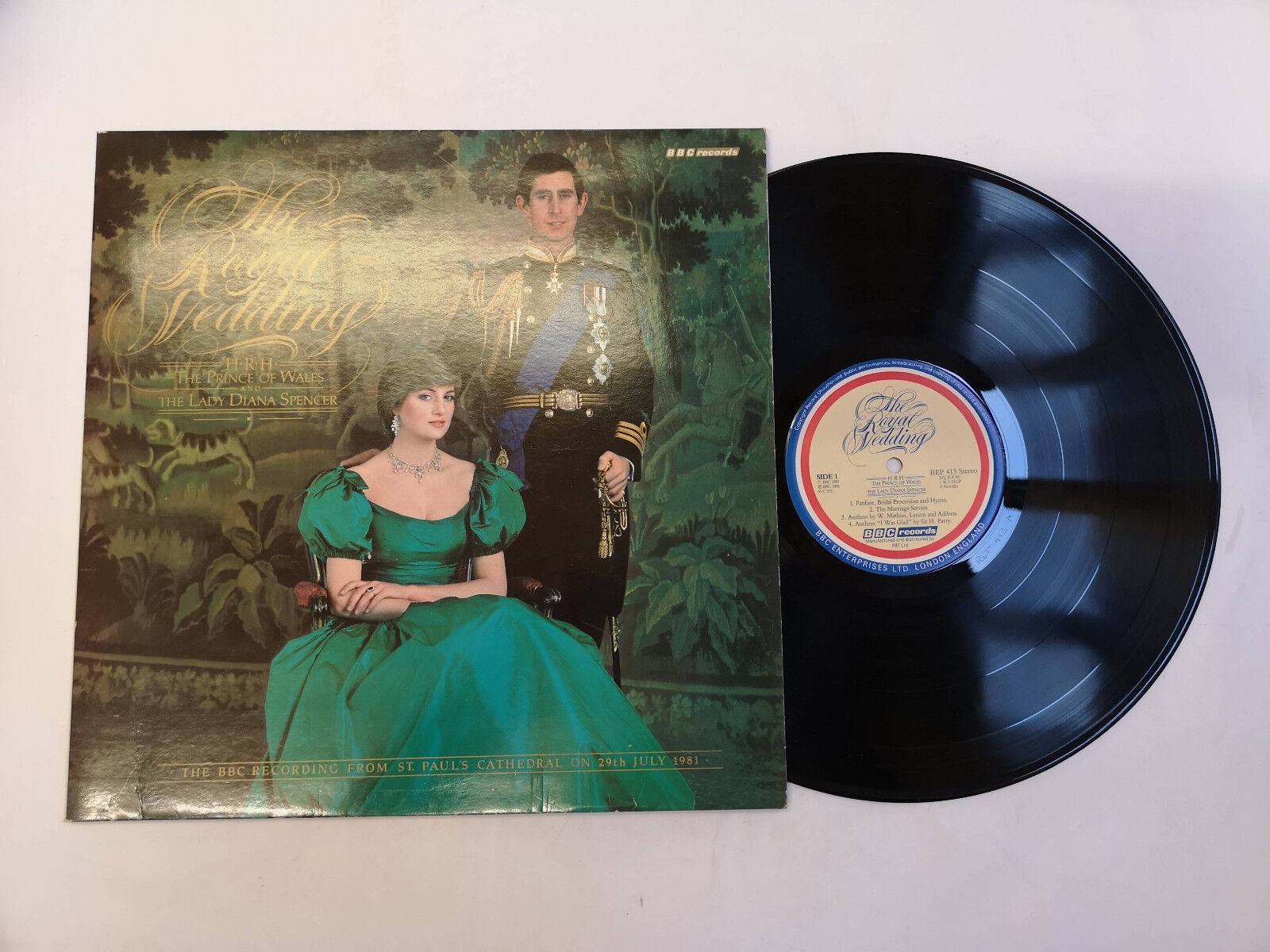 Click here to see similar items, and to buy.
The Royal Wedding Of H.R.H. The Prince OfWales And The Lady Diana Spencer – The BBC Recording From St. Paul's CathedralOn 29th July 1981 (REP 413) 12″ Vinyl LP BBC 1981 Ex/Ex Record No.: REP 413
Label : BBC
Year 1st Published : 1981
Size : 12″
Speed : 33rpm
Type : LP
Record Condition : Ex
Sleeve Condition : ExGatefold Sleeve
Pleasenote, the above conditions are based upon visual inspection under stronglighting. Please contact me via eBay messaging if you would like me to testplay this record. RecordGradingsNear Mint+The records looks unplayed. Have nospindle marks. No surface marks.please note i cannot guarantee the lps have notbeen played but indications appear to suggest this.Near MintThe record has been well lookedafter.  Nearly flawless but may have somevery light hairlines or paper swirls that should not affect play on most turntables.The occasional light tic or pop should be expected as is the case with allvinyl new or old and is most often caused by static electricity. There may besome spindle marks also. If this is unacceptable then a cd is the onlyalternative.  Please do not expect a newrecord. In general near mint LPs will be without problems. Some may lookunplayed but even these can have unwanted background noise.  Alas this is the nature of vinyl.Excellent+  The record has been played.  It may have a few spindle marks ornon-sounding hairlines or scuffs.Excellent  Record will probably have a fewsurface marks. Some may well be audible causing tics etc.  There could also be a degree of surfacenoise, some spindle marks or a dull surface. There should be no jumps or skips.VeryGood    The record will have audible marksand scuffs, may skip or jump but still be playable.  Shelf fillers fall into this category.  Grading ofRecord CoversNear MintThe cover will be nearly as newExcellent+    The cover will be very tidy withoutstains, burrs or writing.ExcellentThe cover may have some agewear,  blemishes or light stains.  Corners may be  burred. Possibility with writing from previous owner.Very GoodThe cover will have minor damage, agewear, tears or discolouring.Good:The cover will be tatty with damage,tears etc. Any major damage will be described and shown on photo.
Click here to buy, and to see similar items
---
Category: Collectables:Royalty Collectables:Princess Diana
Location: Runcorn