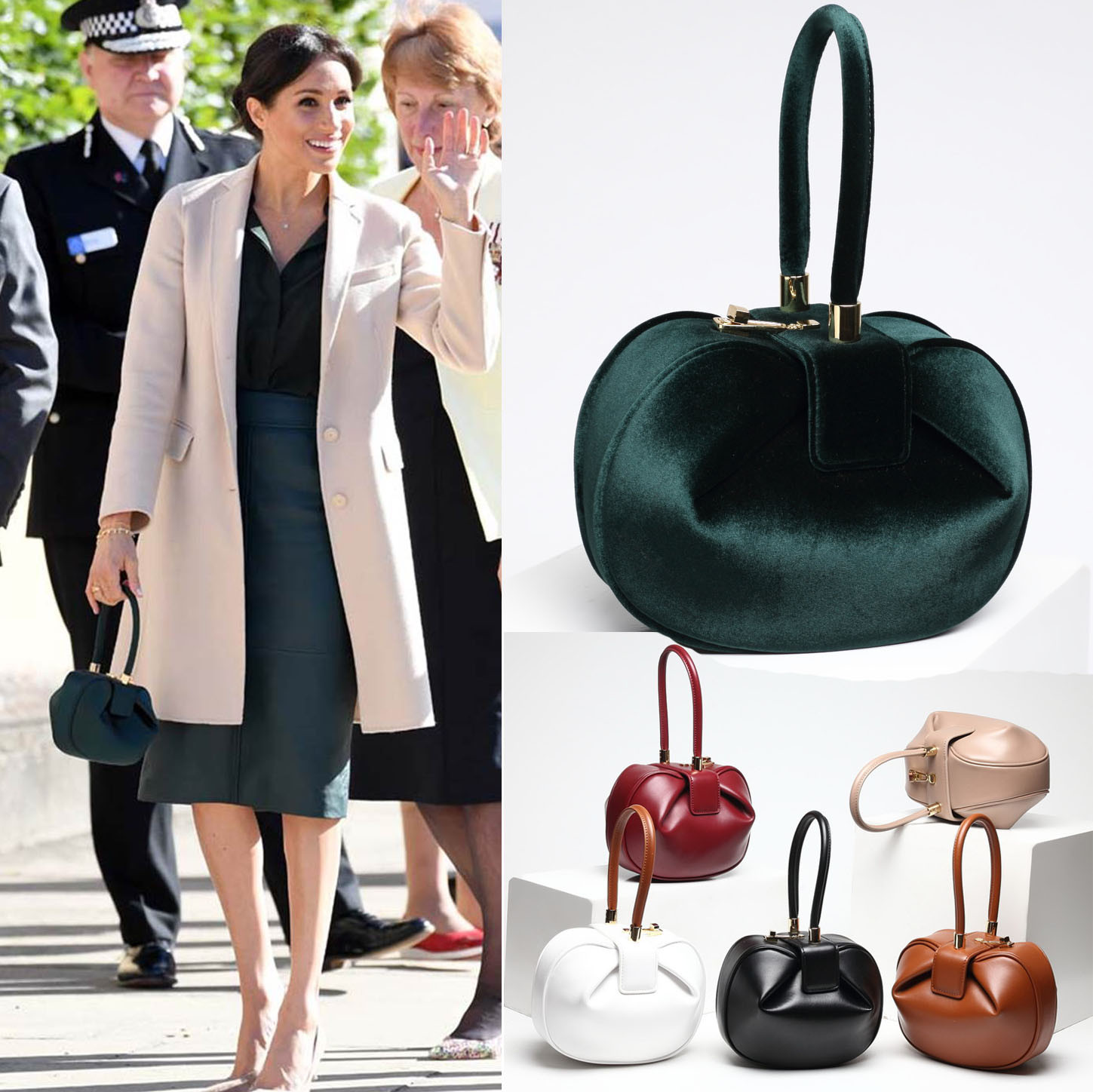 Click here to see similar items, and to buy.
GET THE LOOKS Notice: price is for one bag only. Price varied by sizes and materials.
This is PRE-SALElisting. 
Introducing PRE-SALE: our pre-sale items are normally on the way to ourAustralia warehouse. To allow our buyers received them ASAP, allpre-sale items will be dispatched from our China factory and need up to5 business days for handleing. Namely, all pre-sale items are availablefor ordering NOW and we will process your order as soon as we receiveit. 
We will upload our studio photos after stocks arrives our Australiawarehouse.
DETAILSFeatures:feature a rounded shape, characterised by a folded detail which gathersup into an arced handle, bow effect at top, small but very spacial,varied in 2 sizes (Nina is slightly larger, Demi is smaller), availablein multiple colours, included but not limited to beige, black, brown,white,  burgundy, etc
Inspired: The startlingly simple Nina/Demi handbag has become thehottest fashion item since Miroslava Duma carried it multiple times.After bursting onto the scene in the hands of Kate Bosworth, RebeccaHall and Priyanka Chopra, the bag then made the aristocratic route,accompanying Meghan Markle to Chichester, and then scoring two royalwedding invites (once to Meghan and Harry's, on the arm of OprahWinfrey; then to Eugenie and Jack's, with Demi Moore)
Materials: real leather/velvet/faux leather, polyester, gold tone metal
Care Instruction: keep from sharp item, keep from sun
Noticeto international buyers/addressees: estimated delivery time of standardinternational mail is NewZealand 6-10 days, Asia Pacific 10-20 days, UK & Europe (exceptRussia) 10-20 days, USA, Canada and Middle East 12-24 days, rest of theworld 14-30 days.Due to distance andcustoms, international delivery time can be varied, therefore we cannotguarantee delivery date. Please do not rely on estimated date providedby ebay, as it is solely based on its own database, withbest case scenario, and not associate to any couriers.
MEASUREMENT
Thefigures showed below are the dimensions of this garment. Pleasenotice they are not the dimensions of a female body fitted to certainsize. Even at the same size, the dimensions of different garments maybe largely subject to their design, e.g. a loose top will have a muchlarger bust then a slim top.For the figues of a fitted female bodyat each size, or conversion to other size systems (US, Euro, etc),please refer to SIZEGUIDE.Below figures will provide you ameasuring visionhow they fit your body, and may give you an idea which size suits youthe best. However, if you are unsure how to use them, please pick thesize based on your experience or SIZEGUIDE.Fitting: mannequinwears. Mannequin dimension: shoulder 36cm, bust87cm, waist 63cm, hips 85cm. 1 inch = 2.56 cm(centimetre).
SIZEWIDTH(cm)HEIGHT(cm)THICKENSS(cm)HANDLE HEIGHT(cm)
NINA (LARGER)15
22
1117
DEMI (SMALLER)
13
20
8
17
PHOTOS
FAUX LEATHER AS BELOW
Disclaimer: Please notice below are photos of othersimilar item, for reference only.
DELIVERY & RETURNSAustraliaStandard: Free, no additional charge for multipleitems. Bulky items and sale items may be excluded, please check itemlisting.
AustraliaExpress: $10.00 per order, no additional chargefor multiple items..
InternationalTracking/Registered: $20.00 per order, $5for each additional item, may be trackable depends ondestinated countries (Most North America and European countries aretrackable).Delivery time 1-4 weeks.InternationalExpress: $65.00 per order, online trackable. Delivery time 1-2weeks.
Promotion for all orders: combinepostage, no additional charge for multiple items.Returns: please check 'Returns' at thetop section under item's title, or RETURNPOLICYfor more information.
Click here to buy, and to see similar items
---
Category: Clothing, Shoes, Accessories:Women's Bags and Handbags
Location: Shenzhen